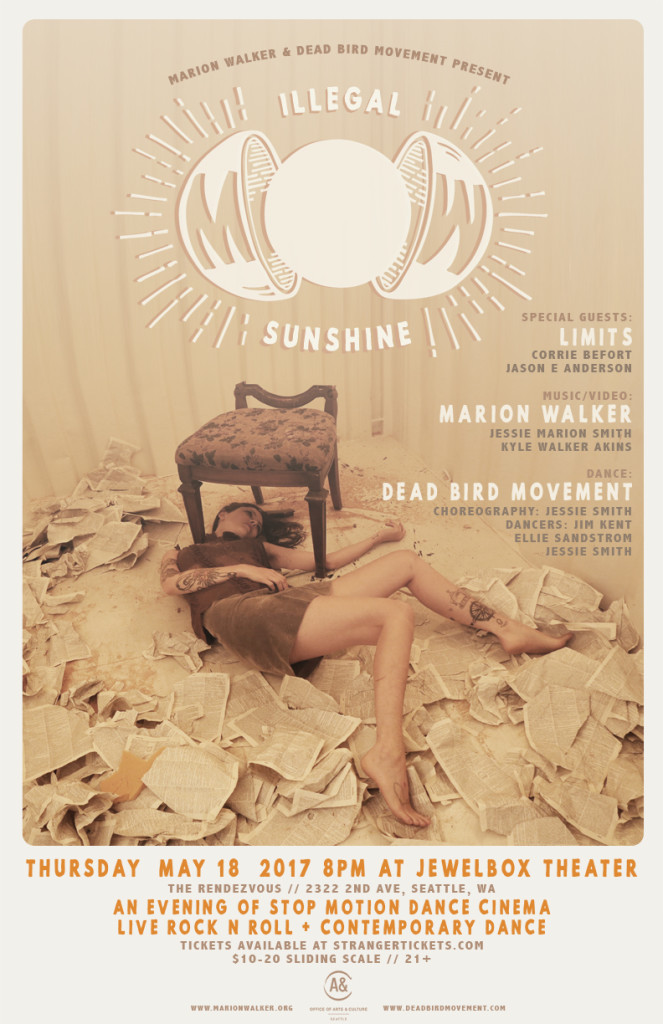 Where:
Jewelbox Theater
2322 2nd Ave, Seattle, WA 98121
When:
May 18th, 2017, 8pm

Tickets:
$15/advance, available at StrangerTickets.com
$10-20/sliding-scale at the door
21+

Marion Walker (Seattle/Reno Rock'n'Roll Art Punk) presents ILLEGAL SUNSHINE, an evening of dance cinema, live music, and contemporary dance. This event celebrates the premiere of Patience, Atlas a stop-motion dance film/music video produced by Marion Walker. The stop-motion video captures a dancer stranded in the waiting room where patience is paramount and the weight of the world eventually tears everything apart. The evening will also feature some very special performances of live contemporary dance choreographed by Jessie Smith of Dead Bird Movement and featuring dancers Ellie Sandstrom, Jim Kent, and Jessie Smith with live music by Marion Walker. Guest openers LIMITS (interdisciplinary-performance art/music group) will also perform.
___________________________________________________________________________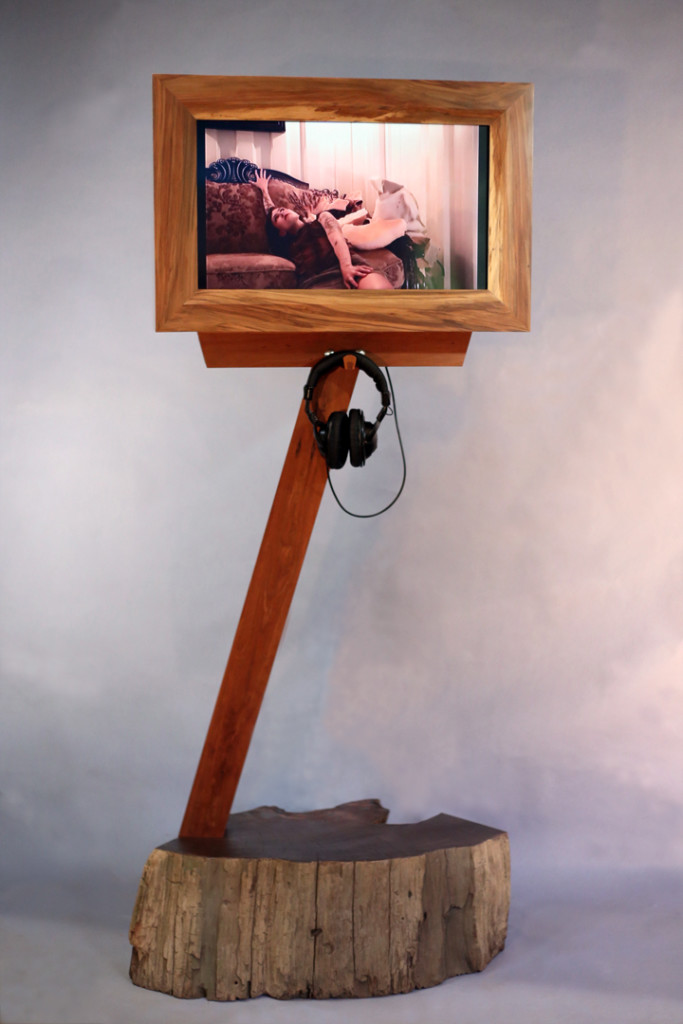 As part of the Patience, Atlas premiere festivities, Marion Walker collaborated with Magnolia Woodworks and built this beautiful video display sculpture. It will be hosted as a pop-up installation at a variety of venues during April/May 2017. Swing through and check it out:
It's free! So, get there, put the headphones on, and watch out!
___________________________________________________________________________
ILLEGAL SUNSHINE credits:
Directors: Jessie Marion Smith & Kyle Walker Akins
Live Music: Marion Walker (i.e. Jessie Marion Smith & Kyle Walker Akins)
Live Choreography: Dead Bird Movement (i.e. Jessie Marion Smith)
Live Dancers: Ellie Sandstrom, Jim Kent, & Jessie Marion Smith
Live Guest Opening Performers: LIMITS (i.e. Corrie Befort & Jason E Anderson)
Video Directors, Editors, Composer/Musicians: Jessie Marion Smith & Kyle Walker Akins
Video Choreographer/Performer: Jessie Marion Smith
Video Cinematographer: Kyle Walker Akins
Video Display Sculpture: Christopher Burwell Smith & Jessie Marion Smith