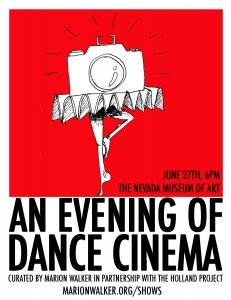 In partnership with The Holland Project, The Nevada Museum of Art presented An Evening of Dance Cinema Curated by Marion Walker. This special program featured professional dance films from around the world in addition to dance films made during Marion Walker's Dance Film Workshop held June 2013 at The Holland Project, Reno NV.
The Nevada Museum of Art, Reno NV
June 27th, 2013
6pm/$5
Workshop films included: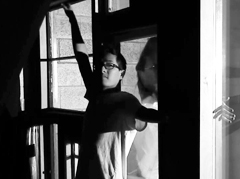 Close…
By: Michael Aber
Estefania Cervantes
Rachel Donovan
Susan Smith
Produced during: DFW 2013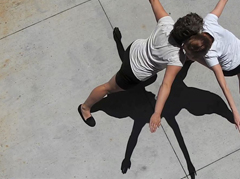 Glitch
By: Alexandria Jaeger
Stephanie Kamphaus
Elijah Dexter Lyons
Savannah McKay Carpenter
Produced during: DFW 2013
Professional films included: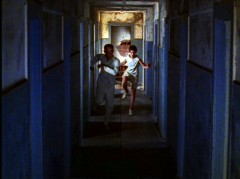 Measure
Directors: Dayna Hanson & Gaelen Hanson
2001 | 6:36min | USA
Original format: 16mm color film
daynahanson.com
A moody duet in a run-down hallway expressed through rhythmically intricate steps.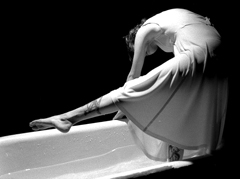 In Memory of Corrosion
Director: Jessie Smith
2007 | 5:34min | USA
Original format: 16mm color film
deadbirdmovement.com
A lone dancer battles the confines of her slippery environment.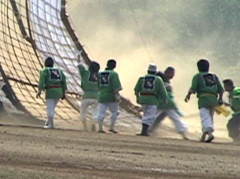 Sagamihara
Director: Corrie Befort
2013 | 8:23min | Japan
Original format: digital
cbefort.com
'Found choreography' captured while observing the seasonal shifts and events in the Sagamihara region of Japan.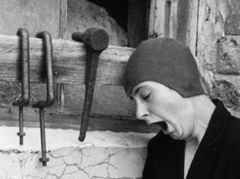 The Village Trilogy
Director: Laura Taler
1995 | 24min | Canada
Original format: 16mm black and white film
laurataler.ca
A moving and poetic portrayal of the search for home.